Hello, Dwellers of Eldervale!
Your patience is paying off! We have held off on sending a newsletter until we had solid progress on the 3rd printing copies of ALL the Dwellings of Eldervale order items. We know this makes some of you nervous and we have heard from many of you in recent weeks. You are always welcome to contact us to follow up on your pre-order. We are alway happy to hear from you. That said, there are just as many (more?) that do not wish to hear from us unless we have progress to report. We respect your time and choose to lean in this direction. Thank you again for your patience. 
We have news to share!!
We imagine all the dragons helping guide the boats along with a worthy crew!
Dragons. On. Boats!
After serious delays that came without warning, all Dwellings of Eldervale order items are now in containers on boats on their way to multiple ports! 
All US bound items were picked up on 7/24. If all goes smooth, then orders will start delivering the last week of August. But, if there are port or customs delays that may push to September.
The EU/UK+ bound items are ahead of the US items. Multiple boats are taking games to multiple ports. Order fulfillment and retail availability is estimated to begin before the end of August. We do not have as direct a connection to these ships since they were booked by regional distributors.
The Chinese, Czech, and Korean versions of Dwellings of Eldervale are also on the move, so keep an eye out for availability and bug your local game stores and online retailers, if these versions are on your wish list!
FAQ Page on WWW.DwellingsofEldervaleShop.com
We have updated the FAQ page on the pre-order webstore.
Can't find an answer to your question? Checking the FAQ page before sending an email will get you an answer faster and enables our staff to get fast responses to customers needing our support. We appreciate you and want to help as needed. Email hello@breakinggames.com and we will get you an answer.
4th English Printing Files Good To Go!
More progress! We keep polishing and fixing small typos and improving messaging to help new players get past the most common questions that come up. As always, zero rules changes or errata to announce. Solid game design, solid rule set, entrancing art, thrilling play.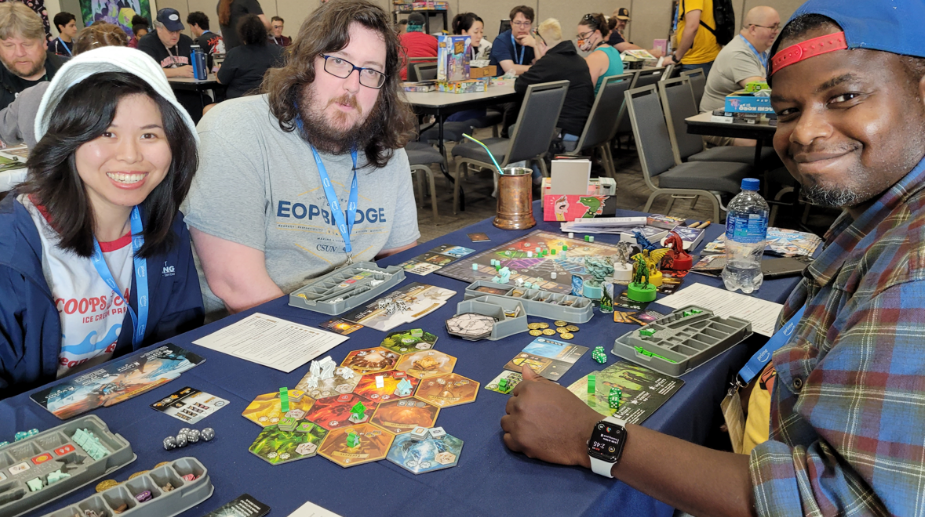 The Elves took the win in this demo play of Dwellings of Eldervale! (photo by Mike Vander Veen)
San Diego ComicCon Confirmed
We had a great time sharing Dwellings of Eldervale and Mansplaining in room 15AB at Table 27. Goes without saying that Comic-Con has plenty going on. But, multiple plays started with, "I just want to take a few sample turns." And, ended with the Realm Stack depleted! They couldn't stop.
Peter Vaughan (right) stopped by to wish demo players well! (photo by Mike Vander Veen)
Gen Con is What's Next!
Tickets for the Dwellings of Eldervale demo plays at Gen Con were snapped quickly. That makes us feel great! Letter Tycoon, Mansplaining, We're Doomed!, Sparkle*Kitty, and Sparkle*Kitty Nights are there too!
3rd Printing on the Move, 4th Printing in Prep!
It feels great to have the 3rd printing of Dwellings of Eldervale items on the way to fulfillment centers - and ultimately to thousands of game tables. But, we are not resting! The 4th printing set up is nearly final. More language version are coming, too! We will have more info in future newsletters as we make progress and have solid facts to report.
Thanks for choosing Breaking Games! Enjoy the play.
- The Breaking Games Team